Studies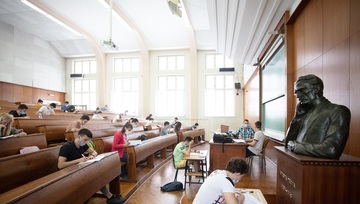 Student mobility
Belgrade University invites students to apply for individual mobility within Key Action 103 Erasmus+ student mobility for traineeships.
The call is open from January 16th, 2023 at 00:00 until February 20th,, 2023 at 23:59.
Applications are submitted through the online platform of Belgrade University MobiON (https://mobion.bg.ac.rs/).  The program in the UK is not available for students of Belgrade University interested in traineeship within this call.
Within Key Action 103 (mobility In the EU and Iceland, Lichtenstein, Norway, North Macedonia, and Turkey) students of Belgrade University can apply for traineeship mobility at partner institutions abroad or other organizations, as specified in the open call on the MobiOn platform.
Student mobility within this call must be completed by October 31st, 2023.
Additional information on student traineeship, terms, and relevant application documentation, as well as the application form are available on the following link: https://mobion.bg.ac.rs/erasmus+/how-to-apply/ka103/required-documents-ka103-outgoing-students-for-traineeships .
For any questions or doubts, please consult Erasmus+ team of Belgrade University (https://mobion.bg.ac.rs/erasmus+/contact).
_____________________________________________________________________________________________
GENERAL INFORMATION ON OPPORTUNITIES FOR ACADEMIC AND PROFESSIONAL DEVELOPMENT OF STAFF AND STUDENTS OF BELGRADE UNIVERSITY 
Belgrade University offers its students and staff a number of possibilities for temporary academic and professional development abroad through various forms of academic mobility. Student mobility involves a period of study abroad which can last for either one or two semesters during one level of studies. During this period,  students remain enrolled in Belgrade University, where they resume their studies after the period of mobility, after which they obtain the diploma of Belgrade University. The ECTS credits earned abroad are recognized by Belgrade University after the student returns, in accordance with The Rulebook of Mobility, particular rules of the exchange, and with complete and appropriate documentation (e.g., learning agreement written and signed before mobility, transcript of grades issued by the partner university after the mobility has been successfully completed).
Teaching staff are offered opportunities for shorter stays for teaching activities, and there are also professional development opportunities for administration staff.
Important: Each candidate is responsible for getting informed about the rules of the specific form or program of mobility, application requirements, general mobility rules of both universities, all in accordance with their status. Each scholarship holder is required to take care of their status during mobility and obtain consent from the school of Belgrade University they attend in accordance with that specific form of mobility.
The three most common forms of mobility for candidates from Belgrade University are bilateral  agreement mobility, CEEPUS program mobility, and certainly the most popular one – Erasmus+ program.
ERASMUS+ KA1 – Mobility of students, teaching staff, and administration staff
This form of cooperation is based on inter-institutional agreements signed between Belgrade University and partner universities from other countries within Erasmus+ Program, Key Action 1, with predefined financial support for participants (stipend for students, daily allowance for staff), and fixed reimbursement rates for travel expenses.
The amounts for allowances, stipends, and travel expenses depend on the country and are available on the following page: https://mobion.bg.ac.rs/erasmus+/scholarshipoverview
Important: All applications and evaluation of all applications (students and staff) are done exclusively through the online platform for mobility of Belgrade University: mobion.bg.ac.rs
Application procedure and list of necessary documents: https://mobion.bg.ac.rs/howtoapply/applicationprocedure
Students and staff of Belgrade University can apply for Erasmus+ scholarship during the open call. The list of open calls is available on the MobiON platform: https://mobion.bg.ac.rs/opencalls
Detailed information on Erasmus+ KA1 scholarships for students and staff of Belgrade University, as well as instructions for using the MobiON platform are available on the YouTube channel of Belgrade University: https://www.youtube.com/watch?v=vsch7YhX5Ss
For application on MobiON, students need to prepare the following documentation:
   1. Transcript of records
   2. Diploma and diploma supplement of previously obtained degrees
   3. Learning agreement
   4. Recommendation letter
   5. Motivation letter
   6. Confirmation of enrollment
   7. Language certificate (minimum B2)
   8. Copy of passport
   9. CV
  10. Photo
  11. Invitation letter for PhD students

Students are required to do the following:
  1.  Collect all the necessary documentation (including the learning agreement and invitation letter by the mentor for PhD students) and only after completing the documentation apply at MobiON.
  2.  Fill in and sign the learning agreement, listing the courses they will attend and take exams from at partner university, collecting at least 19 ECTS (student should look up the courses on the link of foreign university). The learning agreement for students is signed by the vice-dean of their institution, after the students obtain permission of their teachers.
  3.  Students of doctoral studies in addition need to find a mentor at foreign university, obtain an invitation letter, and submit it through MobiOn.
  4.  Agree on all details of the application process with the mentor at their home university.
  5.  Check if the study program is in English or the national language of the hosting country (bachelor studies are often offered exclusively in the national language of a country), before filling in the learning agreement.
CEEPUS PROGRAM
CEEPUS (Central European Exchange Program for University Studies) is the program of academic exchange of students and teachers among countries of Central and East Europe based on the international agreement signed by Austria, Albania, Bulgaria, Montenegro, Czech Republic, Croatia, North Macedonia, Hungary, Poland, Romania, Slovakia, Slovenia, and Serbia.
Student exchange is realized within university networks, each of which focuses on a certain number of subject areas. Cooperation is based on the correspondence between institutes and schools/faculties of universities active in the same subject area.
Student scholarships mean that students are exempt from paying tuition fees and they receive a certain amount for subsistence expenses. The amount depends on the country to which the student travels.
Important: Applications are submitted exclusively through the official internet platform. Before applying, students and teachers should contact the national CEEPUS office and program coordinators at their institution of Belgrade University. More information on the program, the list of national CEEPUS offices, and instructions for application can be found on the official internet platform of CEEPUS: www.ceepus.info
Information on CEEPUS in the Republic of Serbia is available on the website of the national CEEPUS office www.erasmusplus.rs; information can also be obtained through the following email: ceepus@tempus.ac.rs
BILATERAL COOPERATION
This form of cooperation is based on agreements between Belgrade University and partner universities from other countries. There are various agreements but they all usually exempt students from paying tuition fees without other expenses being covered. Nevertheless, all candidates who would like to apply for this kind of mobility are expected to first get informed  about specific conditions of cooperation defined by a particular agreement.
Students and staff can apply for mobility based on bilateral cooperation at the latest at the beginning of one semester for the next semester at their institution of Belgrade University, with permission of the ECTS coordinator of their institution.
Important: Each candidate is required to get informed on the application requirements and mobility based on the specific agreement before they apply for the specific program. Information on the necessary documents is available at international cooperation offices of Belgrade University or at the Sector for International and Interuniversity Cooperation of Belgrade University.
The list of signed interuniversity agreements are available on the website of Belgrade University: http://bg.ac.rs/sr/saradnja/sporazumi.php.