Studies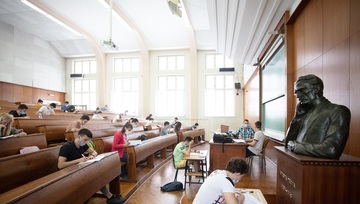 Deadlines for examination registration
January examination period - autumn semester examinations
Deadline for examination registration from 20th to 24th December, 2021.
Duration of the examination period from 17th January to 30th January, 2022
February examination period - autumn and spring semester examinations
Deadline for examination registration from 27th January to 1st February, 2022.
Duration of the examination period  from 7th February to 22nd February, 2022
June examination period - spring semester examinations
Deadline for examination registration  from 16th to 20th May, 2022.
Duration of the examination period from 6th June to 19th June, 2022
July examination period - spring and autumn semester examinations
Deadline for examination registration  from 16th to 21st June, 2022.
Duration of the examination period from 27th June to 10th July, 2022
August examination period - autumn and spring semester examinations
Deadline for examination registration  from 1st to 9th August, 2022.
Duration of the examination period from 20th August to 31st August, 2022
September examination period - autumn and spring semester examinations
Deadline for examination registration  from 29th August to 4th September, 2022.
Duration of the exam deadline from 10th September  to 21st September, 2022
---
Deadlines for tuition fee payment in the school year 2021/22. years
Students who pay tuition fee are required to pay:
the first installment  until 31st October, 2021
second installment  until 1st December, 2021
the third installment  until 1st March, 2022
the fourth installment  until 1st May, 2022
IMPORTANT NOTICE
Examinations are registered only within defined deadlines. Registration for the examination, in exceptional situations, after the deadline for registration, is possible only until the beginning of the examination period with the payment of a late application. It is not possible to register / unregister the exam during the examination period.
Money for tuition fees, examination registration and other needs must be located on the student's account at the time of defined claims' deadlines (for examination registration not later than at the time of registration, within the examination registration deadline).
Students who cannot register for the examinations through their services must do so in the Student Department only within the deadlines set for registering for the examination.
For all relevant information and unclearness, please contact the Student Department in due time.