Studies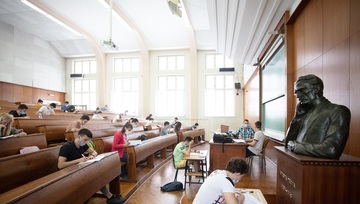 Studies
Undergraduate studies
Undergraduate studies are the most important teaching process held at the School of Electrical Engineering. You can see the course of studying and obtaining a degree in electrical engineering in that part of the site.
Master studies
See the plan of the graduate academic (master's) studies.
PhD studies
See the plan of the doctoral academic studies .
Teaching calendar
Take a look at the calendar to determine when classes are taking place, when the examination periods are and when the holidays are.
Deadlines for examination registration
See when the examination registration deadlines are set.
Pricelist
Bank account
The School bank account and corresponding reference numbers.
Documents
The documents intended for students, and related to undergraduate studies.
Sports clubs
Students' sports clubs .
Student organizations
Registered and active student organizations .
Student services
Web-based student services allow students of the School of Electrical Engineering to register for examinations, colloquia and laboratory exercises, review grades, class schedules and examination dates, and complete other study-related tasks that once required students to wait in line in front of the Student Department counter.