Bachelor Studies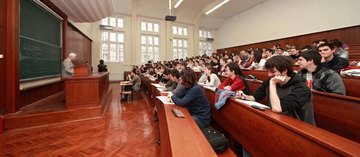 Bachelor Studies
Duration of studies
During this four-year study programme there is a total of eight semesters which last for fifteen weeks, including lessons and colloquia. Each semester carries 30 ECTS credits. In the eighth semester, students are required to write their final graduation papers which carry 12 ECTS credits. The academic year starts on the 1st of October and ends on the 30th of September the following year.
Courses and exams
All courses last for one semester. In addition to courses, there are also practicums which are smaller in their workload and are focused on practical application and expansion of knowledge which comes from the core courses. There are also several courses from the field of humanities and they correspond to practicums in their workload. 
Course requirements involve homework, colloquia and final exams and they all count towards the final grade. Final exams are taken in exam terms. There are five exam terms during the academic year - in January, April, June, September, and October. Conditions for enrollment in the following years are expressed in the number of obtained ECTS credits.
Study paths
When entering the School of Electrical Engineering all students opt for one of the two study programmes - either Electrical Engineering and Computer Engineering or Software Engineering.
At the end of the first year students who study Electrical Engineering and Computer Engineering choose one of the following study modules for the second year:
Electronics
Energetics
Computer Science and Information Theory
Signals and Systems
Telecommunications and Information Technology
Physical Electronics
At the end of the second year students of Power Engineering, Telecommunications and Information Technology and Physical Electronics opt for more specialized modules.
Module opions for students who previously opted for Energetics:
Power Systems
Power Converters and Drives
Module opions for students who previously opted for Telecommunications and Information Technology:
System Engineering
Radio Communications
Audio and Visual Technologies
Microwave Engineering
Module opions for students who previously opted for Physical Electronics:
Nanoelectronics, Optoelectronics and Laser Technology
Biomedical and Eco Engineering
Graduation paper
After passing all exams students cosult their mentors and defines a topic for their final graduation papers. Graduation papers are presented to an evaluation committee made up of three professors.
Academic title
Upon completion of the study programme students earn a Bachelor of Science Degree in Electrical Engineering and Computer Science. With this degree can move on to a Master's study programme.
Enrollment criteria
All students with completed secondary education can apply and take the entrance exam. The entrance exam for Electrical Engineering and Computer Engineering study programme consists of maths and physics tests, while the entrance exam for Software Engineering consists of a maths test only. The selection of students is done on the basis of their entrance exam test results and previous academic record (high school grades).